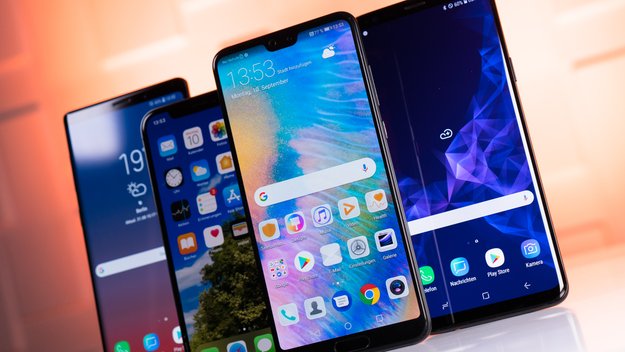 So in terms of memory Huawei goes to the full. Both the Mate 20 and the Pro and Porsche variants have up to 8 GB of RAM on board. The configuration of the Huawei Mate 20 Pro even starts at 6 GB, while the standard version also wants to be available with 4 GB of RAM.
Not only in terms of memory, the Huawei Mate 20 Pro is a real top model. The manufacturer has come up with many tricks, as our picture shows.
As a hardware highlight is CLEARLY the brand new processor Kirin 980 , Which was presented a month ago at the IFA 2018 in Berlin. He not only brings a significant performance boost to his predecessor, but also works much more efficient. Huawei NPU (Neural Processing Unit) with artificial intelligence is expected to make some progress.
Strong battery is being charged wirelessly
In addition, we can look forward to a whopping 4,200 mAh. This should bring the smartphone already in 30 minutes to 70 percent. A wireless charging of the battery should finally be possible.
As further features the manufacturer plans a 3D face scanner as well as an unlocking by language. As if that were not enough, it seems that a fingerprint sensor integrated directly into the display is also used.
What else Huawei plans for the Mate 20 series, we will learn in exactly two weeks. For October 16, the Chinese manufacturer has invited to an event in London, where the Mate 20 is presented along with Pro and Porsche variant.