Microsoft now opens up for their Xbox One gaming console to pair with the traditional PC set with keyboard and mouse.
The actual functionality will first be rolled out through an upcoming update, and there is no automatic that this will apply to all games. It will be entirely up to each individual developer and each game if you can scratch the controller in the future or not.
However, it does not have to be expensive to try – the free game Warframe will be among the first titles that will support this, writes Microsoft .
No special hardware required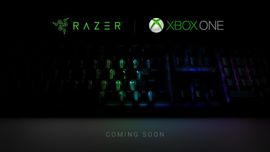 You will also not need anything special of hardware for such a setup, as most USB keyboard and mouse will work as they would on any PC. It does not matter if there are wired or wireless editions either.
However, it does not prevent Microsoft from merging the forces with not completely unknown Razer to develop a hardware package that allegedly will bring you the best possible mouse and keyboard experience for this new functionality.
What kind of magic plans Hazer may have for this remains to be seen – we are promised more information about this on 10 November. Then we will also get the name of several titles that will support gaming with mouse and keyboard.