Pokemon GO is a new adventure game on android that will not make you bored at home because here you will walk through the streets of your city or village in search of new Pokémon. You can only download this game for free, turn on GPS and go hunting for these pocket creatures. And the most interesting will start only when level 5 is reached, when you can choose which team you want to join (Instinct, Mystic or Valor) and the PokeGym capture mode will open (a special room in which you can train and train Pokemon).
The game "Pokemon GO" will add to your collection the rarest Pokémon that you could meet in the eponymous cartoon. That they catch you will need a lot of empty pokeballs and that's not all, because they will hide in every possible way so as not to fall into the trap. To collect a huge amount of Pokémon you need to cover all the neighborhoods of your city and even visit places you have not visited before. All your pocket animals can be used in battles against other players in real time, where you can find out whose Pokemon is steeper. Become the best Pokemon coach and take a worthy place in the overall ranking.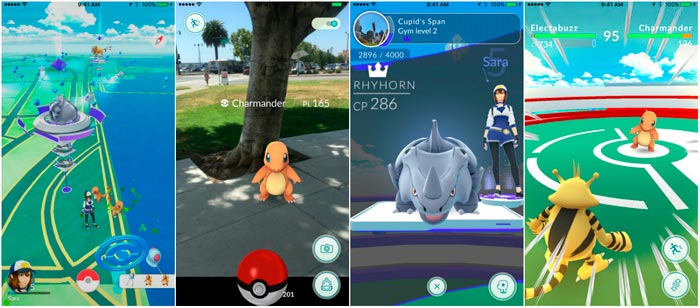 How to find and catch any Pokémon?
To catch a brand new Pokemon in your collection - you need to find him first! Approach him as close as possible and run poker. Try to get into a green or orange circle that will taper around it. The green circle - it will be very easy to catch, Orange - the Pokemon can escape on the run and have to catch again until you catch it. For the captured Pokémon you will be given the game currency Stardust and sweets. To get more Stardust, run poker when the circle is as narrow as possible.
How to add your Pokestop or PokeGym in the game?
Any player can add coordinates to the game of the new Pokestop and thereby improve it. To do this, you just need to fill out a small form: go here .
How to reduce the power consumption of the game?
1. Reduce the brightness of the screen to a minimum and play further.
2. You need to turn off all sounds and music in the game.
3. Close all other applications and social. networks that can load the system.
4. Turn off the wi-fi and bluetooth module unnecessarily.
5. Carry a Power Bank with you - it's a powerful battery that can recharge your phone.
System requirements for the game and How to launch Pokemon GO on a weak device?
Operating system: Android 4.4 or higher 
Processor: 1.2 Ghz dual core or better 
RAM: 1 GB 
Free space: 100 Mb 
Graphics: Adreno 305 or better 
Internet: wi-fi or mobile network
1. Download GLtools (need Root) for lower graphics quality
2. Run the application -> Click on the button "Textures" -> set the value to 0.5x or better than 0.25x
3. Next, we look for the desired game in the list: "Enable settings for this application," we disable anti-aliasing, "16-bit rendering", "Optimize GLSL shaders";
4. The game will visually much worse, but it will work with a bang!
Download for free:
Full version v0.89.1
IMPORTANT!!! LAUNCH YOUR FASHION AT YOUR OWN RISK! 
Mod (automatic search for Pokémon) v0.75.0